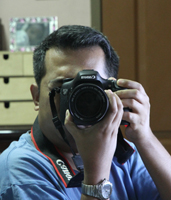 Uanz's Photography Blog!

First of all, I love photography & learning constantly as a hobby to fill up the emptiness feeling in me after the painful divorce. By the way my name is Muhammad Riduan Ramli. People call me Uan for short.

As I'm progressively learning & testing, please bear with me if you found some of the pictures taken by me way off than normal. Hehehe. Anyway I'm using a Canon EOS 7D with a EF S15 - 85mm 3.5-5.6 IS USM lens for most of the pictures. Click here to see the rest of my Canon Equipments that I own.
Here's a nighshootz at Singapore latest tourist attraction, Garden by the Bay.

1352210913

386

579

386

579

I shots all the caterpillars & flowers in my school garden. It was taken using Canon EOS 7D with EF 35mm f/1.4L USM lens. The pictures did not turn out well enough for me using this lens. I should have use a dedicated macro lens instead. All pictures are edited using lightroom3. ok.. go & enjoy viewing them.

1335970848

353

530

353

530

Search

Calendar

February 2018
M
T
W
T
F
S
S
« Jun
1
2
3
4
5
6
7
8
9
10
11
12
13
14
15
16
17
18
19
20
21
22
23
24
25
26
27
28

Categories

Recent Posts

Latest Tweets